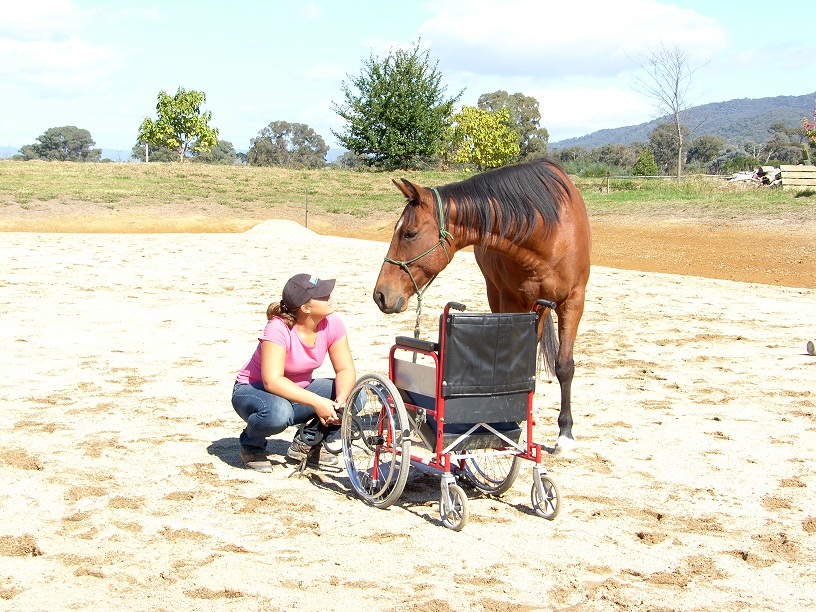 I spent my early years as a rider at the local riding school riding a few different horses.  I loved helping out at the stables and it didn't matter that I only got to ride once a week. At age 13, I left the riding school and started riding at private stables. I would usually only have one horse at the time, but sometimes I would be responsible for two to three horses. I rode trail rides, dressage, jumping and did different kinds of ground work.
At age 18 I graduated high school and decided to take a year off from studying. This led me to Holistic Equitation. My plan was to travel around Australia for a few months, but I ended up staying for year and working for HE most of the time. I got the chance to work with Jason, Jo and Kailie who taught me more than I imagined possible. Along with the horses I worked with, I had the best teachers I could possibly want. During my time in Australia, I got the chance to take a Photonic Therapy course and I am now a certified level 1 Photonic Therapist.
Now I'm back in Denmark where I offer lessons and clinics. My experience with many different horses has led me down a road, where I have become excellent at reading horses and knowing where they are at. My main focus is problem solving in regards to behavioural problems, training float loading, desensitizing etc. I also teach Horse and Owner Personalities focusing on the dynamics between the individual horse and owner.
[nggallery id=1]
Danish Version
Jeg har været interesseret i heste så længe, jeg kan huske. Jeg fik lov til at starte til ridning på den lokale rideskole, da jeg var 7-8 år, hvor jeg i årenes løb fik prøvet nogle forskellige heste. Jeg elskede at hjælpe til på rideskolen, selvom jeg kun fik undervisning én gang i ugen. Da jeg fyldte 13 år stoppede jeg på rideskolen og begyndte i stedet at have part på privatejede heste. Som regel havde jeg kun en hest af gangen, men til tider endte jeg med 2-3 heste. Jeg red på skovtur, dressur, sprang ind imellem og arbejdede med forskellige ting fra jorden.
Efter jeg fyldte 18 og blev færdig med 3.g, besluttede jeg mig for at tage et sabbatår. Det førte mig til Australien og Holistic Equitation teamet. Min oprindelige plan var at rejse rundt i landet i et par måneder, men jeg endte med at blive et helt år, hvor størstedelen af tiden blev tilbragt sammen med HE teamet. Jeg fik chancen for at arbejde sammen med Jason, Jo og Kailie, som lærte mig utrolig meget. I kombination med de forskellige heste, jeg arbejdede med, havde jeg de bedste læremestre jeg kunne ønske mig.
Imens jeg arbejdede hos HE fik jeg chancen for at tage et kursus i Fotonisk Terapi. Det betyder, at jeg i dag er certificeret level 1 Fotonisk Terapeut.
Nu er jeg tilbage i Danmark, hvor jeg tilbyder undervisning og en dags kurser. Min erfaring med mange forskellige typer heste gør, at jeg er blevet dygtig til at læse hestene og vide, hvor de er og hvad de er klar til. Mit fokus er at finde løsninger i forhold til f.eks. adfærd, miljøtræning, trailerlæsning osv. Jeg underviser også i Hest og Rytter Personligheder, hvor jeg har fokus på dynamikken mellem de individuelle heste og ryttere.