Healing through the wisdom of horses
Experience Mindfulness, Equine Therapy and Art with Horses
Fill in form below or TEXT Jo on M: 0478 7111 80 or Email: enquiry@holisticequitation.com.au
We are open MON-FRI. Bookings Essential. Cost $100 hr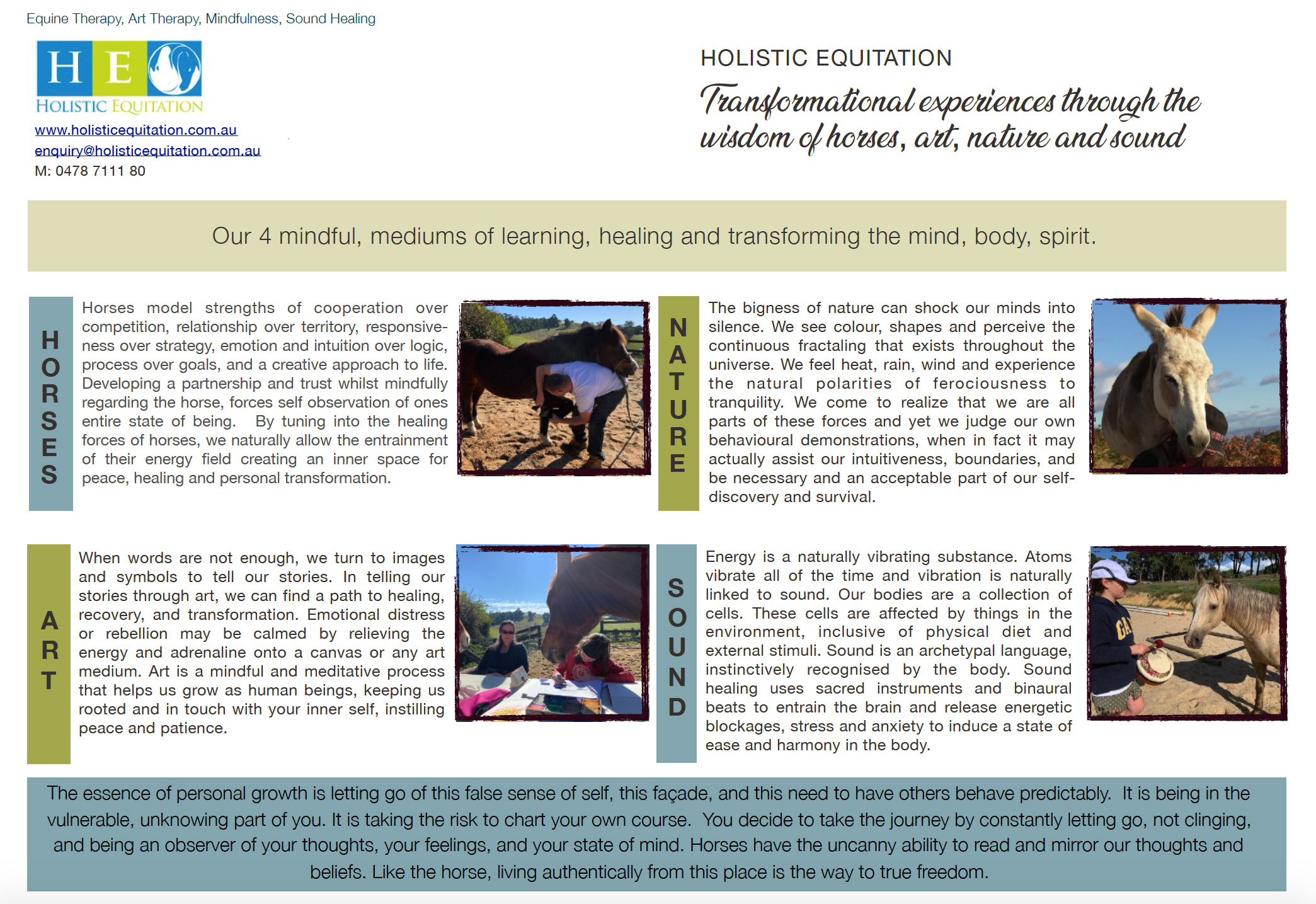 Programs have included:
Equine Therapy for Children/Teens on the spectrum
Mindfulness with horses to find peace and reduce stress
Three brain integration and coherence training.
Equine Therapy with women looking to improve their boundaries, leadership and assertiveness
Equine Empowerment and Leadership with Youth Justice
Equine Relationship and reflection with individuals
Equine Team Building with Corporates,
Kids and teens that want to learn how to have a relationship with a horse
Horse and Art Therapy classes combined
Adults just looking to hang out with horses and have fun

If you are interested in Equine Therapy programs be if for Individuals, Kids, Youth Justice, Corporate Leadership Programs, etc – Holistic Equitation has an experienced team of facilitators that can provide fun, informative, safe and educational programs that can be tailored to suit your requirements.
SESSION PRICES AND FAQs
Lessons start at $100/hr  for one on one sessions and $100/hr per person, for NDIS/Govt Funded.
It is always important to manage the expectations of parents and the experience children will have here. Children are not allowed to ride the horses/ponies/donkey and if their emotions are high or behaviours erratic the interaction with the animals will be limited for safety reasons.
We have other activities and modalities that are incorporated into the sessions for those with short attention spans.
We cater for adults, kids and teens and all levels of experience but prefer kids to be over 8 years of age to reap the full benefit.
Clothing and Attire: We recommend long pants, boots, long sleeve shirt and a hat. On warmer days it is also worth bringing your water bottle and sunscreen.
Wheel Chair Access: Due to the experiences being held on the farm and the location of our horse facilities – wheel chair access is limited.
To find out more about Equine Therapy sessions and the benefits these workshops can have on your group or organisation, please call Jo on 0478 7111 80 or FILL IN THE FORM BELOW.
The Human Facilitators at Holistic Equitation
JO Iskra                                                                  Emma Jephcott
Please contact:
Jo Sheval ~ Iskra for more details
0478 7111 80
45 Connors Lane, Seville VIC 3139, Australia
Study Completed by Jo Iskra
Student Testimonial:
I have been mentored by Jo Iskra since February 2018. I have been interested in learning more about emotional awareness and sense of self through horses since the age of 13.
I am on the autism spectrum and have Generalised Anxiety Disorder, and animals have been a big passion of mine since a young age. Jo's compassion and knowledge around emotions and connections between horses and humans helped me immensely in gaining more self awareness.
She was able to guide me through the eyes of the horse to help me reflect on myself. Our sessions were enjoyable, often followed by drawing my experiences afterwards. Incorporating art aided me in solidifying concepts I had learnt with the horse and Jo.
I am also very interested in becoming an animal assisted therapist myself; Jo's guidance and tutelage has helped me to understand better the complexity of the human-animal connection and how to help other people through their issues.
I have learnt powerful strategies to help me navigate the world such as using meditation and mindfulness to be peaceful, which will be extremely useful for me as I transition into university this year. – Shadia

Client Testimonial:
Dear Jo,
Just a few lines of feedback for the Equine Facilitated Learning Program.
Equine Facilitated Learning Program conducted at the Malmsbury Youth Justice Centre Oct 2012
This program conducted for the disengaged young men in custody, was again one of the most powerful  and moving experiences I have ever had the privilege to observe.
The clients were able to express their potential leadership qualities and explore their soft skills in a non-threatening way.
It was almost unbelievable to see some of these young men relax and be enthusiastic, gentle participants in all of the activities around the horses.
Over the two days they developed and learnt  horse-handling and communication skills they never thought would be possible, as well as became more connected with their peers and definitely improved their interpersonal skills.
They have not stopped talking about the  program since.
I believe this program goes along-way to helping these young offenders develop self-esteem and  ready them for re-connection with their community.
Thank you so much.
Cheers, Annette Hatherley
———————————————————————