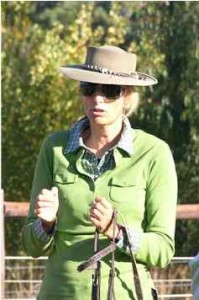 Classical Dressage Instructor and Rider
After much pestering of my parents, at 9 yo I was finally given a years worth of weekly riding lessons to put me off the idea of owning my own horse. Persistence pays, so at 10 yo I was at last given a pony. The weekly lessons continue until year 12, when studies got the better of my time. While growing up I had done many of the usual youth activities with my horses – trail rides, pony club, swimming, eventing, cattle mustering, show jumping and dressage. I also tried polocrosse, games and driving.
I have always worked to improve my horse's way of of going and in my youth I had some very influential instructors – particularly, Virginia Creed (now international dressage judge); Paul Johnson and Charlie Moffat, who created a small furore among the pony club parents for their contrasting approaches to show jumping, but which helped open my eyes to the realization that there is more than one way to be effective and so created an interest in looking for a common theme that made all the different approaches work; miss Kay Irving, and Brian Schrappel and Art Utendaal also left some lasting impressions.
At 19, my limited capacity to stay quiet while I watched someone attempt to do things the hard way got me my first regular riding students. At this time I was studying to be a primary school teacher. After graduating I decided I couldn't dedicate myself fully to school teaching as well as horse riding and so I stayed with my primary passion – horses.
Since that time I spent 10 years studying classical dressage with Olympic level coach, Freddy Mercay, and was also introduced to the thinking behind natural horsemanship. This led me to investigate the western approach to horse training. Because I am always searching for what the best horsemen in any discipline have in common, I found the western and european systems compatible and complimentary, and each has something to offer the other.
Although I had been a successful competitor in dressage, jumping and eventing, I had lost interest in competition as I had become more interested in my horse's performance compared to his daily performance than how any judge might rank me. One aspect of competition I did appreciate was to be challenged on a new jumping course that someone else had erected. I found I was competing against my own training rather than against others and that I didn't need to go to an organized event to do this.
Training people to get more our of themselves and their horses, with an attitude of rapport, has been my primary focus since the age of 19. Most of my time is spent giving private lessons, but I have also held clinics, taught at Pony Clubs and Adult Riding Clubs, judged dressage, jumping and at shows and gymkahnas. I am always looking to improve my communication with my own horses, as well as with my students and their horses. I see understanding horses as a life long mission.
Please contact:
Jo Sheval for more details
0478 7111 80
45 Connors Lane, Seville VIC 3139, Australia